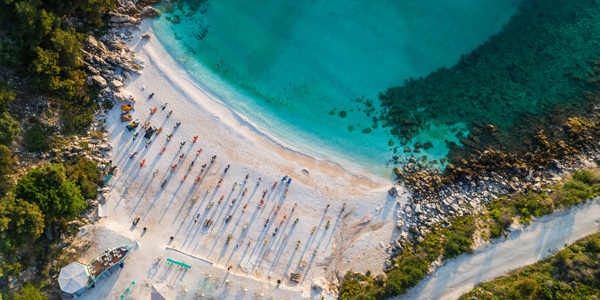 Plenty can be said about people who vacation at the beach – they love to relax, crave warm weather and enjoy spending time in the sun.
But what about when they're burnt out from the sun and need to rest up and recharge inside? As it turns out, fans of the beach are just as likely to be found camped out in front of the TV as other Americans. Their TV show preferences, however, differ.
Leveraging the Viant Advertising Cloud, Viant's people-based platform that consists of more than 250 million registered users, we uncovered some TV viewing habits of people most likely to be found spending their hard-earned time off at the beach.
Chill Out on the Beach, Heat Up on Screen
Beach vacationers might like to relax on the sand, but when it comes to TV viewing, they love the suspense of a good competition. As such, many beach goers consider some of the biggest events in sports to be must-see TV. They're 42% more likely to watch the NBA Finals than those who vacation elsewhere, as well as 32% more likely to watch the NHL playoffs and 27% more likely to catch the World Series.
That penchant for a good rivalry extends to awards shows, too. People who like the beach are 62% more likely to watch the Oscars, 45% more likely to watch the Golden Globes and 34% more likely to root for their favorite musicians at the Grammy's.
Back to Reality
Perhaps it's the dream of an exotic beach-front home that attracts beach goers to reality TV focused on real estate. They're twice as likely to watch House Hunters International as those who don't like the beach. They're also 65% more likely to watch Fixer Upper and 64% more likely to tune in to the original version of House Hunters.
It's not just real estate reality programming the piques beach goers' interest. They're into reality TV competitions as well and are 88% more likely to watch Shark Tank and 57% more likely to watch The Voice.
Pay the Price
Beach goers will spend their money on ocean views as well as premium television. They're twice as likely as the general public to pay for premium channels HBO and Showtime.
As far as their favorite shows on those networks, Billions leads the way – beach goers are 24% more likely to watch the New York-based drama than people who vacation elsewhere. They're also into humor, as they're 18% more likely to watch HBO's Silicon Valley and 13% more likely to watch dark comedy Barry.
*The above information is based off of the Viant IMP Indexing Formula, which calculates matched profiles and data providers.