Built with performance in mind, the Viant Household ID is one of the most scalable and sustainable currencies for the new programmatic digital universe.
And it's actionable today.
The proliferation of CTV and importance of consumer privacy has led to an industry shift away from individual-level targeting. That's why the Viant Household ID is the solution for marketers in need of a sustainable, scalable way to build relationships with consumers. Among the most persistent and privacy-focused identifiers in existence, the Viant Household ID empowers marketers to reach real people across their devices, whether individuals are at home or away from home, without the use of cookies.
Leveraging patented technology and built on decades of big data management, the Viant Household ID cuts through the noise of the more than 1.5 billion IP addresses and other identifiers present in the programmatic bid stream and translates them into 115 million tangible, meaningful households that marketers can reach with targeted advertising.
Executed seamlessly through Adelphic, the Viant Household ID provides marketers with the scalability, addressability, measurability and privacy compliance necessary for success today.
Scalable
.
Present in nearly 80% of bid opportunities today, the Viant Household ID has more proven scale in reaching cookieless browsers, mobile devices and CTV environments than any other available identifier.*
Viant's World Without Cookies Dashboard provides a real-time look into the identifiers in the bid stream, including the Viant Household ID, so you can see firsthand how it stacks up against alternative identifiers.
* While not an identifier in the bid stream, our patented technology can detect, in real time, if the bid request contains a Viant Household ID, which can be transacted on by Adelphic software. Data is based on the currently available identifiers in the Adelphic DSP bid stream as of November 2021.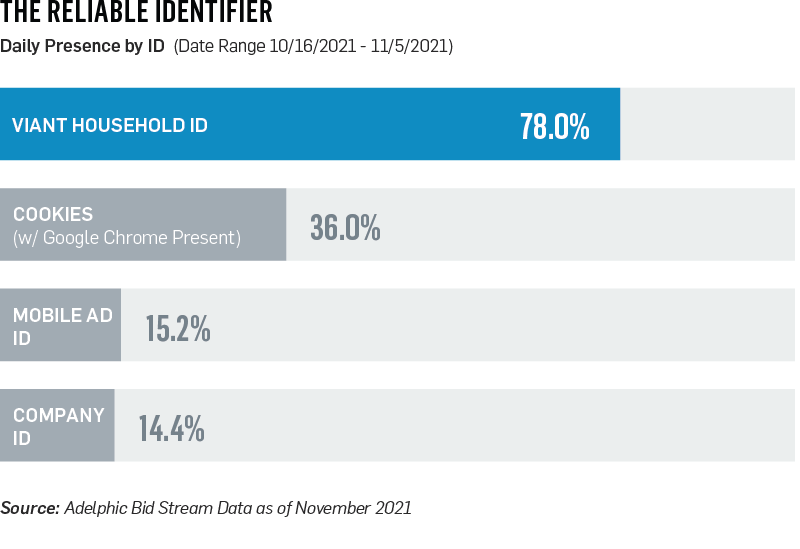 Addressable
.
At the heart of Adelphic's identity resolution capabilities, the Viant Household ID empowers marketers to target multiple connected devices within the same household, whether their owners are at home or on the go.
Reach addressable audiences across 115 million households with real individuals
Scalable access to premium supply across all channels
Insights from over 70 data partner integrations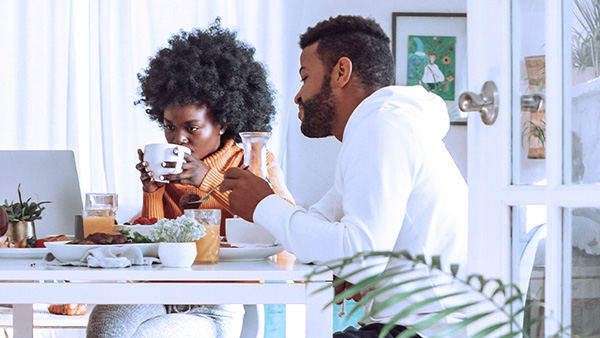 Measureable
.
Unlike the cookie, the Viant Household ID is based on deterministic data. This allows marketers to gain a holistic view of their campaigns across all channels and to truly understand the value of their advertising. Reports include online and offline attribution, lift and incrementality reports to show true ROI, ROAS and more.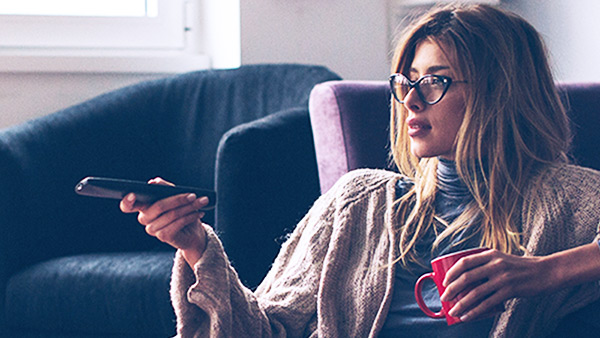 Ready to experience The Viant Household ID in action?
Note: By filling out this form, you agree to the Viant Privacy Policy and to join Viant's mailing list from which you can unsubscribe at any time.