Over
95%

Customer Service Satisfaction Rating

10 Reasons Adelphic is a Better DSP
Our platform is built to streamline workflows and ease the lives of programmatic traders. With Adelphic, marketers can plan, execute and measure campaigns in a single interface through a self-service portal or with the help of our award-winning professional services team.
Of course, it's important to understand just how Adelphic is different from other DSPs on the market, including The Trade Desk, Amobee, DoubleClick and MediaMath. There's a reason why we're an AdExchanger Power Player and satisfaction with our customer service is consistently above 95%. Find out more below.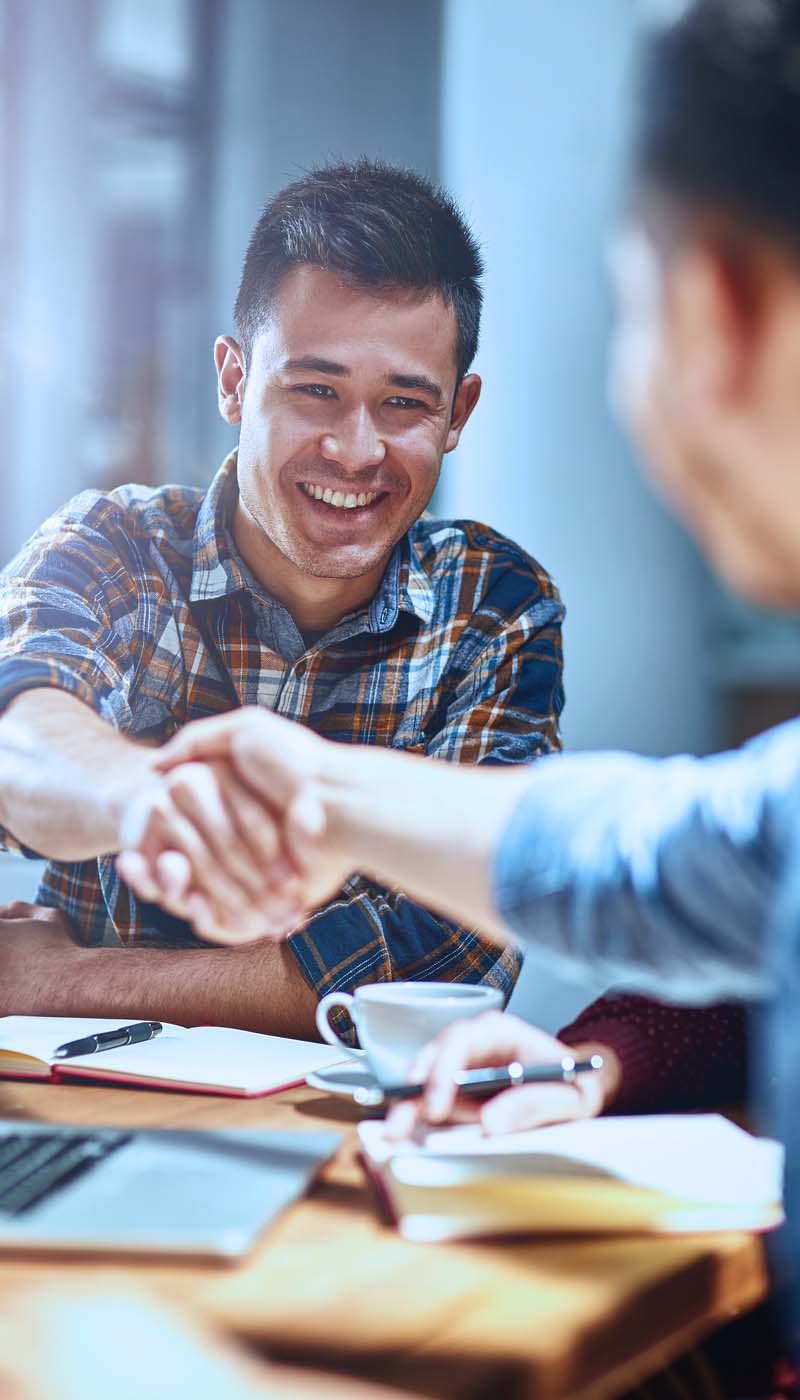 1.

Unified Advertising Software
Adelphic makes it easy to onboard your own first-party data with our free CRM onboarder, which means users aren't required to pay extra for a separate data management platform, even when matching data to our direct-match partners. In addition, Adelphic offers full identity resolution capabilities and the means of activation, combining all key capabilities into one – thereby eliminating unnecessary data loss and complexities from needing multiple partners like a DMP and onboarding partner, identity resolution solution, separate DSP and so forth.
2.

In-House Identity Resolution
Adelphic's identity resolution resolves data back to an individual or household by matching personal identifiers (e.g., email, name, address, etc.) to digital identifiers (e.g., cookie, MAID, IP, location, etc.) across devices and channels, allowing advertisers to target audiences using deterministic data. Utilizing this patented technology, Adelphic covers the linkage between IP address and physical address, allowing advertisers to truly target down to the household level.
3.

Data Integrations & People-Based Targeting
Adelphic's integrations with 70+ data providers allows for extensive identity mapping, giving users the ability to target consumers based on purchase behaviors, location, TV viewership insights and much more. Superior integrations with ACR providers like Gracenote present users with one of the most established and accurate CTV footprints in the market.
4.

Omnichannel Capabilities
Adelphic is a true omnichannel DSP that empowers brands and agencies to reach consumers seamlessly across all programmatic channels and formats. With Adelphic, programmatic traders can manage and measure omnichannel campaigns without having to constantly switch between platforms.

Plan effectively using a multitude of tools that provide marketers with the ability to develop data-driven media strategies using advanced analytics. Utilizing foot traffic and other data, learn more about audience behavior across all channels including linear TV and CTV, desktop, mobile, digital out-of-home, audio and more.
6.

Features for Power Users
Adelphic offers many in-depth options that give advanced traders the highest levels of control, which help ensure they are running the most efficient campaigns possible. This includes:
Bulk functionality
Traders can mass edit mass edit orders, campaigns and spreadsheets, instead of making individual changes one at a time, saving significant time.
API capabilities
These provide bilateral data syndication into or out of the platform for trafficking and reporting in formats easily accepted by business intelligence teams.
Machine learning algorithms
Our algorithms find optimal bid prices for maximizing performance and scale across all major KPIs.
External tracking sources
Users can export settings, make changes and then upload them back into Adelphic to maximize workflow efficiency for large or complex campaigns.
Advanced reporting
Utilize advanced omnichannel analytics to maximize ROI and better understand the effectiveness of campaigns.
Access to first-party ID resolution
Resolve data back to an individual or household by matching personal identifiers to digital identifiers across devices and channels.
7.

Advanced Reporting Suite
Adelphic's Advanced Reporting suite includes in-depth, multi-touch attribution analytics for online and in-store activity across all platforms. Clients can leverage differentiated insights like cross-channel reports, foot traffic and multi-touch attribution models, digital out-of-home, linear and connected TV, and self-service surveys, as well as custom and third-party reporting tools as needed.
Gone are the days of the programmatic "black box." Adelphic is a fully transparent DSP, and that includes the availability of log-level data and all associated technology and data costs, as well as the ability to pay publishers directly. Both our percent-of-spend and subscription plans ensure that marketers know exactly where every dollar they spend is going.
9.

Best-in-Class Customer Support
Adelphic offers easy-to-access, personalized support whenever it's needed with the fastest response times in the industry. It's never a challenge to connect with a real person for assistance. Client satisfaction with our customer support is consistently above 95%, as reported in our annual survey of all Adelphic users.
10.

Flexible Client Relationships
We don't believe in one-size-fits-all contracts. Adelphic creates and tailors contracts based on what brands and agencies need, which includes our first-of-its-kind subscription plan. There are no "cookie-cutter" required terms for every brand or agency.
In addition, we offer our clients the opportunity to work with Adelphic staff as they set up their campaigns, optimize and troubleshoot. Adelphic staff can also assist with delivery against key performance indicators and delivery goals, and provide post-campaign support, recommendations and more.
Learn More About Why Adelphic is a Better DSP